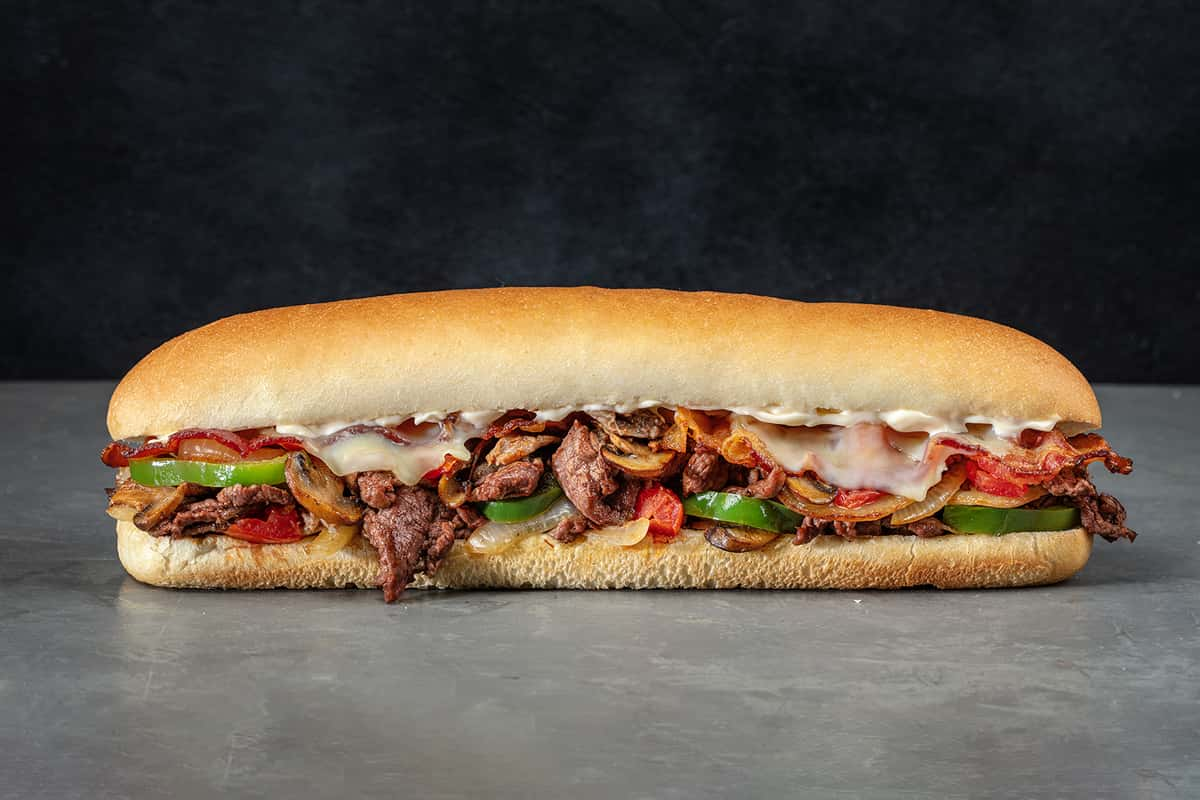 Our Menu
BYBM Rewards
Be the first to receive updates on exclusive events, secret menus, special offers/discounts, loyalty rewards & more!
Our Menu
Famous Marinated Sirloin Steak Subs
Whether you prefer the Classic Steak, the satisfying Italian Steak or the tasty Smoked Cajun Steak Sub, you've come to the right place. Jon Smith Subs has plenty of options to satisfy everyone's taste buds. We take our Sirloin Steak Subs seriously here! All of our steak subs are made with the highest quality meats, sliced daily and double-wrapped to ensure freshness. Our marinated steak is grilled to order, our farm-fresh vegetables are cut on a daily basis and our Italian-style and whole wheat sub rolls are baked fresh daily using the best ingredients possible. Every Sirloin Steak Sub at Jon Smith Subs uses real provolone cheese. We take no shortcuts in preparing the Marinated Sirloin Steak Sub of your culinary dreams
Marinated Grilled Chicken Subs
Jon Smith's Marinated Grilled Chicken Subs are to die for! Our all white breast meat is cut daily for freshness and marinated for the most flavorful chicken sub you've ever had. We use farm-fresh vegetables that are cut each day and Italian-style and whole wheat sub rolls that are baked fresh daily to guarantee every part of your sub will be as mouthwatering as possible. Your sub will be made with real provolone cheese. Whether you choose the Chicken Bomb Sub or the Smoked Cajun Chicken Sub, we guarantee you'll enjoy each savory bite of your Marinated Grilled Chicken Sub from start to finish.
Grilled Specialties
What comes to mind when you picture the perfect hot sub? Flavor, of course!! Is it oozing with melted provolone and parmesan cheese, meatballs and zesty marinara sauce or are grilled, fresh veggies more your thing? Either way, we have plenty of hot subs to choose from. We've got a few subs that we guarantee will make your taste buds curious like a Kielbasa Bomb or even our Reuben on Cuban. Every ingredient at Jon Smith is guaranteed to be fresh from the bread that is baked daily to the farm-fresh vegetables that we know are so important for sealing the deal on your flavorful sub.
Giant Deli Subs
Do you have a craving for a traditional Italian sub with amazing fresh deli meat? What about the classic and always delicious BLT or a tasty, tender Roast Beef Sub that always melts in your mouth? Jon Smith Subs guarantees you'll love our flavorful Giant Deli Subs made with fresh deli meats, cheese, vegetables and other top of the line ingredients. Packed with more meat and more flavor, our menu of Giant Deli Subs has something for everyone including a Triple Deli Classic Sub and Jon's favorite sub, the Tuna Bomb. You really can't go wrong no matter what you choose!
Kid's Menu
Because we know kids love adventures just as much as Jon Smith himself, they get their own section in our menu. Sized just right for our young foodies, our made-to-order 3-inch subs come in a variety of appetizing choices like a delicious Meatball Sub or a Grilled Cheese unlike anything you've ever had. You can also choose a classic Turkey Sub or Ham Sub if that's more intriguing to your taste buds. And if you'd like, you can make it a combo meal by adding a small bag of Lay's chips and a small drink to complete the meal.
Fresh Salads
Looking for a fresh salad? You've come to the right place! We have wonderful salad choices for you at Jon Smith Subs, too. Our Chef's Salads offer you choices like Grilled Chicken & Provolone and All White Tuna & Provolone with crisp lettuce and other fresh vegetables packed with flavor. Jon Smith's Garden Salad is incredibly appetizing and the perfect healthy option with flavorful, fresh vegetables and a variety of salad dressing options to choose from.
Sides
Can't have a sub without the crunch of a potato chip? Or, better yet, a side order of Jon's Famous French Fries? We've got you covered. We carry a selection of Lay's chips and our fries are cooked to order. Remember, you can always make it a combo meal with either chips or fries and a drink. If you are feeling extra hungry, order your sub with extra meat, bacon or cheese to really satisfy your taste buds. For those with a sweet tooth looking for a perfect ending to their Jon Smith meal, how about a gourmet cookie to the rescue? Our warm, delicious cookies taste just like homemade and you'll have a hard time choosing which one to get.

Fan Favorites

Hot!